All Shopify services at a glance
Design
From the selection of your Shopify template to the implementation of your individual theme, we provide extensive advice through to the final implementation and beyond.



Development
Does your shop need additional features or unique apps that are not available in the traditional Shopify App Store? We take over the complete development of apps for your respective requirements.
Shop takeover
If you already have an existing online shop in Wordpress, Magento or other shop systems, we can migrate it completely and smoothly for you to Shopify, including products, customers, etc.
Responsive
Since most shop visitors nowadays are on the go with a smartphone or tablet, we attach great importance to ensuring that your products are shown to their best advantage on the smartphone and other end devices.
Administration
Since we know how important your time is, we offer you the full administration of your Shopify shop. This means that you no longer have to struggle with technical details and the necessary specialist knowledge and can fully focus on your core business.


Legal
Due to increasingly complex data protection and EU directives, it can quickly become confusing for shop operators. Thanks to our many years of experience, we know what to look out for and keep an overview of all relevant requirements for you.


Training
In order to better understand the Shopify system, we offer extensive training in the use of Shopify for you or your employees. We are happy to take a day to familiarize you with the topic even more intensively. Alternatively, easily via Skype or Teamviewer
Facebook Marketing
Facebook offers us the option of extensive interest research, which allows us to identify your tailor-made target group so that we can generate higher traffic on your Shopify store with targeted advertising campaigns.
All Shopify services at a glance
Shopify is a modern and extremely popular solution for creating and managing online stores. This shop solution is characterized by a high level of comfort as well as a high level of security and stability. Since the online shops implemented with Shopify are hosted directly by the provider of the software solution, the operators of these online shops do not need to worry about finding and maintaining a suitable hosting environment. Especially for small and medium-sized companies that do not have their own IT departments, this is an enormous saving in costs and time. At the same time, the online shops implemented in this way can be upgraded with additional extensions (apps) so that they can be adapted very well to the individual needs of the respective retailer.
As a Shopify partner, we are happy to assist you with the initial setup as well as the ongoing support of your online shop with words and deeds. Our team of qualified experts implements online shops for large and small retailers in Botswana - if you also want us to set up your shop, you can contact us at any time without obligation.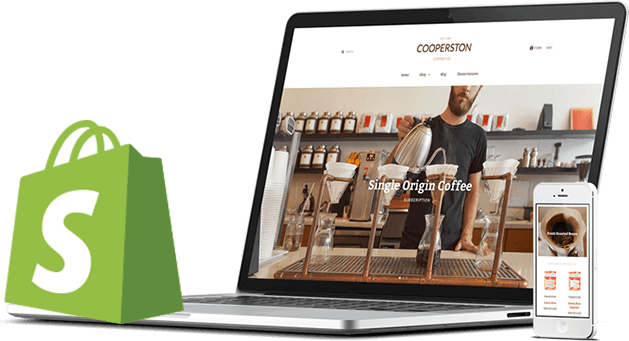 For these reasons we come into question for you
Implementation of new shops

Would you like to create your own shop for the first time? You are welcome to hire our team and have a professional online shop set up via Shopify.

Optimization of existing shops

If you do not want to create a new online shop, but want to achieve better results with your existing online shop, we will help you to optimize your shop in a targeted manner.

Technology and marketing

We have expertise in both technical and marketing areas. So you can have us create a high-quality online shop on both levels via Shopify.

Advice from Botswana

Personal advice is also essential when setting up e-commerce measures. With us you can not only set up an online shop, but also receive professional advice on all aspects of e-commerce.
Websites & references
Trust is good, references are better
Powered by WHMCompleteSolution